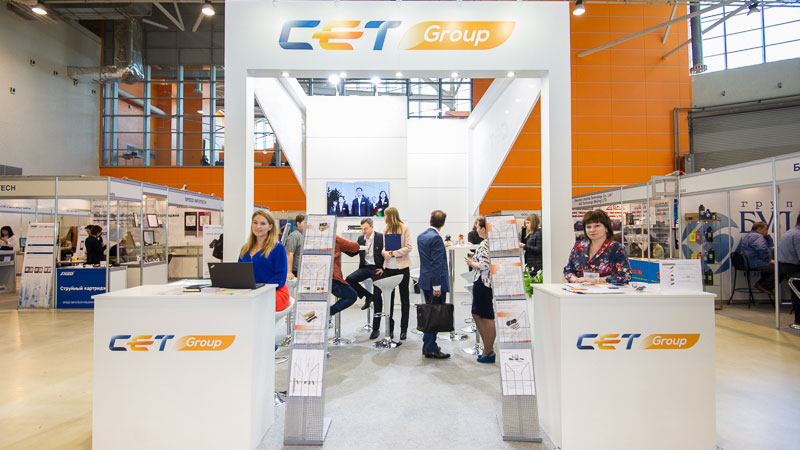 MOSCOW - CET Group's Russian Team recently participated in the "BUSINESS-INFORM 2017" EXPO for the first time. The Expo ran from May 17th to the 19th at the Moscow VDNH Expo Centre. On all three of these days, top managers and company experts spoke about (and, in some cases, demonstrated) the development, manufacturing, and testing of CET's hi-tech products.
CET Group manufactures its products in China, but they provide worldwide technical and marketing support. Our specialists continuously share their professional skills with one another so that they can provide the most efficient customer support. Leading specialists from our Headquarters in China, our Russian branch, and our USA Testing Center worked at the expo. We stress our ability to provide world-class support to our partners and customers.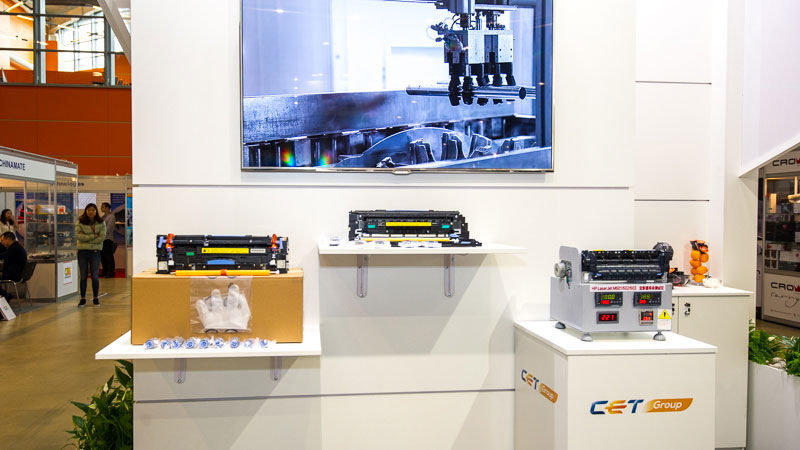 CET's booth included an assortment of product samples, which visitors could look at or even hold at their leisure. These samples were manufactured in-house and tested several times before being sent to the Moscow warehouse. Furthermore, we presented one of our special fuser testing jigs, which emulate our fusers' operation. This machine is one of many that is used on CET's production line in Beijing.
On the first day of the Expo, the Technical Director of CET Group Russia (Alexey Samoshkin) and his colleague, Testing Center manager John McCracken, gave a presentation. They spoke about technology trends in office printing and CET's influence on the compatible spare parts manufacturing industry and the entire compatible consumables market. Their presentation drew a lot of interest from patrons and visitors alike.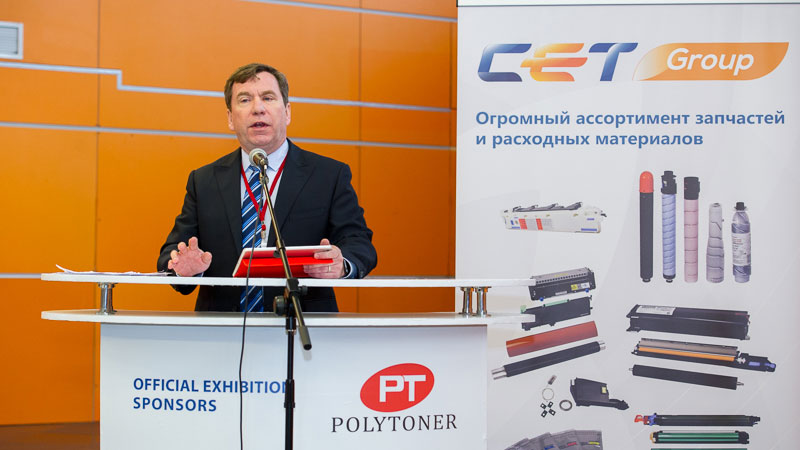 The speakers' main opinion was that there are strong prospects for the market in the spare printer and copier parts industry. End users will be able to keep their machines working longer and, thus, be more profitable. As their profits improve, so do the projections for the compatible and remanufactured consumables market. Customers will start to recognize that they can save money on replacement parts that work just as well (if not better) than OEM parts.
They also spoke about some of the challenges that come with manufacturing compatible spare parts. Some of these challenges include increasing print speed, reducing energy consumption, and smaller machines' dimensions. These things make it more difficult to use low quality compatible parts, which is why CET Group puts so much emphasis on quality control, R&D, and new technologies. These strengths help to place CET Group at the vanguard of the spare printer and copier parts industry.
In closing, we would like to express our sincerest gratitude to everyone who visited our booth, and to those who organized and/or participated in the "BUSINESS-INFORM 2017" EXPO. We would also like to invite our partners and their clients to CET Group's upcoming Conference in Moscow. This seminar will be led by specialists at CET Group Russia and will focus on commercial and technical information about our branch and our products.
Thank you for choosing CET!